Kia at Hi-Country Auto Group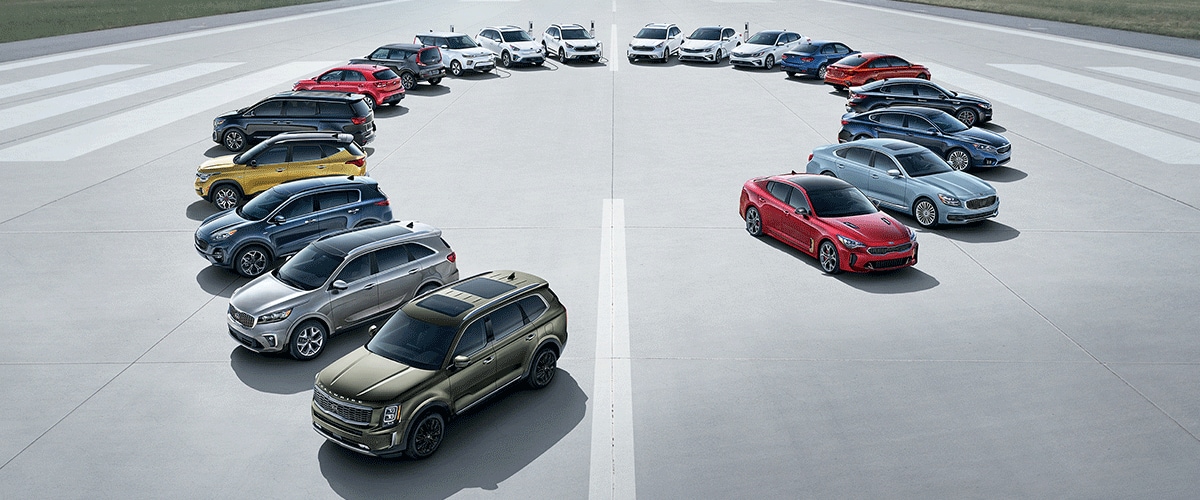 Explore Kia Options around the Farmington Area Today!
Picking out a new vehicle can be a challenge, especially with a plethora of options out there that all offer similar experiences. If you are looking for a model lineup that transcends just adequate, you won't find a better solution than one from the Kia lineup. More than just a commuter lineup, the Kia cars and SUVs offer a versatile and reliable drive that gets you home safe and secure. Here at Hi-Country Auto Group, we want to help you find the perfect Kia for your lifestyle while showing you how you can take advantage of your new car! When you are ready to learn more about why drivers prefer Kia, reach out to us to schedule a test drive!
Why Choose a Kia Vehicle at Hi-Country Auto Group?
One of the best reasons to buy a Kia is to benefit from one of the best warranty coverages in the automotive industry. You will benefit from extended coverage that most other lineups won't include when you purchase one of their new vehicles. A Kia model benefits from a 10-year/100,000-mile warranty that delivers peace of mind when you need it. It helps you avoid unwanted maintenance costs, saving you money and time in the process.
Shopping for a new vehicle might reveal that many models are priced a bit higher than you would prefer. Not so with the Kia lineup! Typically, Kia models cost less than their competitors without sacrificing quality or features. Kia often includes many features that you can't find standard in some of the other options out there, providing plenty of value without breaking the bank to do so!
Which Kia is Right for You?
The Kia lineup offers a variety of exciting options for you to search through and find the right fit. Those in the market for a new sedan will enjoy options like the Kia Optima and all-new Kia K5. If you need a bit more space to match the needs of your busy day, you can enjoy models like the Kia Sportage and Kia Telluride. There is a model for everyone!
Reach out to us today to schedule a test drive with your favorite model!
Hi-Country Auto Group

4004 E. MAIN STREET.
Farmington, NM 87402


Hi-Country Buick GMC

1700 San Juan Blvd
Farmington, NM 87401


Hi-Country Chevrolet

404 W Chaco St
Aztec, NM 87410


Hi-Country Buick GMC

1700 San Juan Blvd
Farmington, NM 87401


Hi-Country Chevrolet

404 W Chaco St
Aztec, NM 87410


Hi-Country Kia

4004 East Main Street
Farmington, NM 87402


HI COUNTRY MITSUBISHI

4004 E. MAIN STREET
FARMINGTON, NM 87402

Visit us at: 4004 E. MAIN STREET. Farmington, NM 87402